Martin Creasey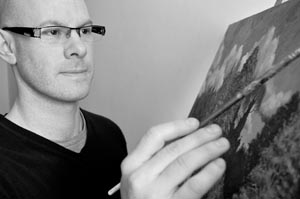 ---
Martin is a British landscape painter who also has a strong interest in photography and graphic design, having been a graphic designer and photographer for over ten years, before deciding to concentrate on painting in 2013.

It is an amalgamation of these interests that have helped him develop his painting technique and style to use colour in a bold, eye-catching way, and develop compositions that are strong in design.

Martin spent many of his younger (and older!) days fishing beside quiet lakes in the countryside, and this love of water is the reason it is often to be found in his paintings. He has naturally been drawn to rivers and lakes situated in the British countryside - and the unique challenges that painting water brings inspires him to try and catch its ever-changing moods.
Related Work